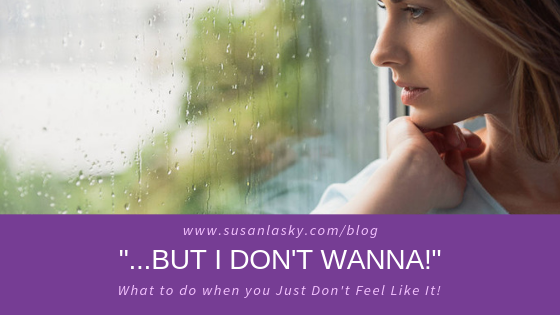 But I Don't Feel Like it! …

I planned to write my next blog post. Great Idea. Gives me joy to share information. Helps me to stay in business so I can keep helping clients. I have the time today… but I don't feel like it! 

The funny/sad thing about "…But I don't feel like it" – those six short words wield a mighty power, and it's not for good. We think them frequently, or at least many of us do, and they are the Destroyers of Productivity.

Here are some typical conversations in my head, but I imagine they sound familiar to many of you.

I ought to go to the gym…
I should re-organize my closet…
I need to finish this…

I said I would…

It's at the top of my 'Action' list…


…BUT I DON'T FEEL LIKE IT!

Just six words, but powerful enough to subvert our best intentions. The enemy of getting things done.

What to do?

I coach my clients on the benefits of reframing a 'should… must… need to… or have to…' into a 'want to.' Why? Because we're all more inclined to do what we want. But even wanting to do something can lose traction when the 'but I don't feel like it' button is pressed, and it gets pressed very easily – "I'm tired… I have too much to do…. I'm not sure how to… It's too much work…  I just don't wanna!"

These are powerful feelings. Strong enough to triumph over our already-compromised executive functioning capabilities. So, too often, we don't take action and our temporary emotions/avoidance tendencies get top billing.

I don't like giving in. Sometimes, sure. Being self-indulgent can be comforting, and there are times when eating an ice cream sundae or taking a nap should take precedence over staying on a diet or doing the laundry. But other times it feels like the nefarious power of six is in charge, and even my best plans are unwilling hostages. 
So here's how I fight back.


I start from my reality. 

Step #1 of my 

7-Step PowerPlan to Success™

 is Self-

Aware

ness, which means acknowledging how I 

really

 feel. If I 

don't 

feel like it, why deny the obvious? Step #2 is Self-Acceptance. I already know all those 

shoulds, oughts, musts, etc.,

 and instead of fighting the way I feel or blaming myself, I accept my mood, so I'm not adding incendiary guilt to the challenge of taking action (…or not).

I'll remind myself I have the power

 

of choice.

 Step #3 is to Believe in Possibility – that we

 always 

have a choice. It's easy to forget this when caught up in the moment. Still, despite the way I feel (or think), I 

can 

find strategies to do things differently, thus producing different results.

I can take action despite my thoughts and feelings

. There is a powerful concept in several therapies, including Morita Therapy, the Japanese psychology of Action, that focuses on our ability to take action

 regardless 

of the thoughts and feelings that will 

always

 get in the way. The trick is to acknowledge them, including the powerful 

"I don't feel like it,'

 then choose to ignore them… they don't have to be in control, even though they seem to be.

Keep that action simple and immediate.

 If I think about writing a blog, it can be overwhelming. Overwhelm, especially for people with challenged executive functions or ADHD, will allow our fight, flight or freeze reaction to take control, making it even less likely to get 

anything

 accomplished. So, maybe I'll set a timer for 10 minutes and open to a blank page in my notebook or Word file. Maybe I'll just write a few buzz words (Iike I did when I started this blog by writing, 

"But I don't feel like it…"). 

Maybe I'll get inspired and continue, or perhaps I won't, but I've done 

something

!

Consider what is actually getting in the way

. Sometimes this is a waste of time, but occasionally there's increased clarity when I explore

 why

 "I don't wanna," enabling me to move forward. My kneejerk response 

"But I don't feel like it"

 may be a reaction to a concern that, when acknowledged, can be remedied. Perhaps my reluctance to do something might be because I'm not sure

 how

 to get it done. Maybe I first need to do some research or create a Project sheet and break it down into small, do-able tasks. Maybe I need to ask for help. Or maybe I have too many things to do and haven't prioritized. I need clarity.

Look for the options.

 Sometimes, exploring what's

 really 

getting in the way gives me options.

I don't want

 

to re-organize my room because I think it will take up most of my day. OK, how can I power up that action switch? I 

can 

set an alarm, put on dance music and work for just 60 minutes. Who knows, I may even complete the job in that time, or at least make good progress.  



Or maybe I don't want to straighten up my clothes closet because there's no room. So my project shifts to reviewing my clothing with an eye towards donating. As organizing guru Barbara Hemphill says, "You can't organize clutter." First, I'll declutter, then I'll find it easier to organize.

Look for the motivators.

 What will encourage activation? For example, people with ADHD are rarely driven by the common motivators of importance, consequences or rewards (unless they are immediate). 

But if something is interesting or novel, we're more likely to WANT to pursue it. I know it's easier for me to unload the dishwasher (boring and repetitive) if I make it a game to get it done quickly: 

Beat the TV Commercial. 

I recently discussed this concept with a client, and she decided the best way to clean her kitchen after dinner is to make having her favorite ice cream dessert dependent upon having a cleared counter and sink. The yummy dessert was enough of a motivator to make her 

want 

to do it.
So how did I manage to write this blog, despite my immediate reaction of "But I don't feel like it!"? 


I decided to switch my environment (a very helpful strategy) and sit outside to enjoy a gorgeous day (studies show that being in nature resets the brain, so another boost). 

My small, portable bluetooth speaker played perfect background music at low volume from my playlist (for me, wearing earbuds or earphones would have made the music my primary brain focus and been distracting, rather than enhancing). 

I filled a thermos cup with a tasty drink (self-care). 

No, it wasn't wine – not a bad idea, but I was tired and would have drifted off target.



I took along my favorite pen and a pad with smooth, thick conducive-to-writing paper (sometimes hand writing is more inspirational than keyboarding). 

I began by writing down those six powerful words, "

…But I don't feel like it

." 

Most important – I set a clear intention and decided to put everything else on hold while I write.

There are many ways to fight these Six Powerful Words. Let's continue this conversation with your comments on my blog, 
www.SusanLasky/i-dont-wanna
. What are some ideas that work for you?